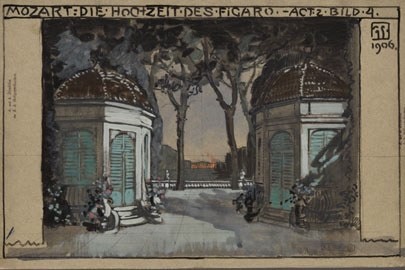 Wolfgang Amadeus Mozart, Le Nozze di Figaro
Figaro: Heinz Blankenburg; Susanna: Mirella Freni; Count Almaviva: Gabriel Bacquier; Countess Almaviva: Leyla Gencer; Cherubino: Edith Mathis; Bartolo: Carlo Cava; Marcellina: Johanna Peters; Don Basilio: Hughes Cuenod; Don Curzio: John Kentish; Antonio: Derick Davies; Barbarina: Maria Zeri; Bridesmaid: Patricia McCarry
Glyndebourne Festival, 9 June 1962. The Glyndebourne Festival Chorus and Royal Philharmonic Orchestra, conducted by Silvio Varviso. GLYNDEBOURNE GFOCD 001-62 (3 CDs)
Le Nozze di Figaro has been the opera of my life. It was the first one I listened to in detail (via the Böhm recording on Deutsche Grammophon), and it played a key role in making me fall in love with opera. I have heard it numerous times in Vienna, London, and New York in performances that have been some of the most memorable experiences of my musical life (such as Böhm's last public performance at the Wiener Staatsoper in 1981; a performance at the Met under Levine that featured the perfect Cherubino of Frederica von Stade; and, perhaps the best of them all, the Strehler production at the Theater an der Wien in 2001 with a young cast hand-picked by Muti). I have learned over the years that while Figaro is almost indestructible, and even a mediocre performance can bring a great deal of pleasure, its style and atmosphere is difficult to capture, and it is rare to experience a performance that gets everything right.
I am happy to report that I have now finally found a recording of Figaro that does just that. It has taken years of listening to many different recordings, several of which (under Karl Böhm, Carlo Maria Giulini, Vittorio Gui, Erich Kleiber, Georg Solti, etc.) at various times seemed to have everything I was looking for, but in the end always left me with some lingering doubts for various reasons. But this live recording of a performance from the 1962 Glyndebourne Festival takes the prize, and captures the essence of this divine opera better than any other.
The main reason has to do with the atmosphere and pacing of the opera, which are the most difficult things to get just right. The sound picture is perfect: voices and orchestra are in perfect balance, the excellent mono sound is so good that stereo would not have made any difference, and all the singers have fluent and natural Italian. Moreover, a feeling of joy pervades the entire recording, which is as it should be in this of all operas. Despite being a live recording, there are few stage noises, and both the singers and the orchestra display superb precision of ensemble.
I have always found Silvio Varviso an excellent opera conductor (I vividly recall an excellent Arabella under him at the Palais Garnier in Paris in 1981), but I never suspected that he was such a fine Mozartian. Without quite the dramatic acuity of an Erich Kleiber, he lets the opera unfold naturally, with an excellent balance between orchestra and the singers. He is also very skilled in finding the right tone and sound picture for each individual scene, and the singers work together superbly. My only slight regret is that, as this is 1962, we have to forego any appoggiature (even something as basic as an arpeggio leading into the reprise of "Dove sono").
Upon seeing the name Heinz Blankenburg, I imagined a Figaro with Germanic Italian and an unidiomatic style. How wrong I was! Blankenburg, who was actually American, is exemplary in the title role, singing with lightness and a grace, and with a flexible yet powerful baritone with a wide extension (a bit reminiscent of Hermann Prey). His Italian is also remarkably fluent, and he is an excellent vocal actor. Here is a singer who is largely forgotten but who deserved to have a much bigger career than he did.
Gabriel Bacquier was still in the first flush of vocal youth in 1962, and sings with a fuller, steadier tone than we have been used to in his recordings of the 1970s and later. He has no problems with the vocal difficulties of his aria, and his impeccable timing and dramatic skills make him an excellent Count.
Who would have thought that the Turkish soprano Leyla Gencer, famed in bel canto and major Verdi roles, was such a superb Mozart singer? But that she certainly was, as shown both by her performance here and by her superlative Donna Anna in the live Don Giovanni under Solti from 1962 issued on CD in the Royal Opera House Heritage Series. She reins in her large voice and shows exquisite sensibility throughout (I can think of few soprani who sing such true pianissimo in Mozart as she does). Even if she doesn't have a naturally luscious timbre, her solid technique allows her to maintain a pure line, with only a few brief moments of the curdled tone that we know from some of her performances in heavier roles. Her long residence in Italy allowed her to sing Italian with near-native fluency, and her dramatic sense is as unerring in Mozart as it was elsewhere.
In 1962 Mirelli Freni was in her youthful prime. Gifted with immense musicality, dramatic sense, and a voice of bewitching beauty, she was perhaps the most completely satisfying Italian lyric soprano of the last few decades. Susanna is a role that displays all of her best qualities, and her performance here is everything one could want. She and Bacquier demonstrate exemplary timing in their Act III duet as Susanna mixes up her "si"s and "no"s, and her "Deh vieni non tardar" in Act IV demonstrates perfect vocal control as well as tone with the fresh bloom of a bracing white wine. A lovely performance in every way.
For once we have a soprano rather than a mezzo Cherubino. Edith Mathis was at the beginning of her career in 1962, and developed into the best Susanna I ever heard (at that 1981 Vienna performance under Böhm, with the sublime Gundula Janowitz as the Countess). Her Cherubino shows all the characteristics that made her such a great Mozart singer: spontaneous relish for the text, innate musicality, clear, pure tone, idiomatic Italian, and great dramatic sense.
The smaller roles are all adequately sung and acted. However, one performance is much more than that, namely the Basilio of Hughes Cuenod, who was famous in the role. He is delectably sly and cynical in the character's many double entendres, and also sings extremely well. Thankfully the performance includes Basilio's last act aria, which can be tedious in the wrong hands, but is transformed by Cuenod into a delightful vignette (Marcellina's aria is cut).
All one can say in conclusion is that this is the most enjoyable recording of the most delightful of operas, and will bring untold hours of pleasure to the listener.